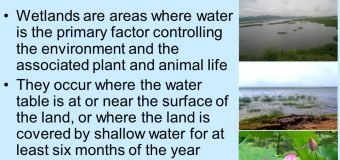 The Chandigarh administration had on Monday issued a draft notification for declaring Sukhna Lake as a wetland under the Wetland (Conservation and Management) Rule, 2017. Suggestions and objections have been invited from residents for the same. implying that encroachments, setting up of any industry, dumping of waste, discharge of untreated waste  and effluents from industries, and any construction of permanent nature within 50 metres from it will be banned.
LEARNING WITH TIMES/WITHOUT CLASSES/AT HOME

WETLANDS.     Wetlands are areas of land where water covers the soil – all year or just at certain times of the year. It includes all lakes and rivers, underground aquifers, swamps and marshes, wet grasslands, peatlands, oases, estuaries, deltas and tidal flats, mangroves and other coastal areas, coral reefs, and all human-made sites such as fish ponds, rice paddies, reservoirs and salt pans. Wetlands may be natural or artificial and the water within a wetland may be static or flowing, fresh, brackish or saline. There are even underground wetlands.
Wetlands are a critical part of our natural environment. They protect our shores from wave action, reduce the impacts of floods, absorb pollutants and improve water quality. They provide habitat for animals and plants and many contain a wide diversity of life, supporting plants and animals that are found nowhere else.
India has 37 ramsar sites which are as following:
ASHTAMUDI WETLAND
BHITARKANIKA MANGROVES
BHOJ WETLAND
CHANDERTAL WETLAND
CHILIKA LAKE
DEEPOR BEEL
EAST CALCUTTA WETLANDS
HARIKE LAKE
HOKERA WETLAND
KANJLI
KEOLADEO NATIONAL PARK
KOLLERU LAKE
LOKTAK LAKE
NALSAROVAR
POINT CALIMERE WILDLIFE AND BIRD SANCTUARY
PONG DAM LAKE
RENUKA WETLAND
ROPAR
RUDRASAGAR LAKE
SAMBHAR LAKE
SASTHAMKOTTA LAKE
SURINSAR-MANSAR LAKES
TSOMORIRI
UPPER GANGA RIVER
VEMBANAD-KOL WETLAND
WULAR LAKE
SUNDARBAN WETLAND(2019)
Nandur Madhameshwar(2020)
Keshopur-Miani,(2020)
Beas Conservation Reserve(2020)
Nangal (2020)
Nawabganj (2020)
Parvati Agra (2020)
Saman (2020)
Samaspur (2020)
Sandi (2020)
Sarsai Nawa (2020)